Leaders of Black Heroes Matter, the group that launched the campaign to rename Lake Shore Drive for Jean Baptiste Pointe DuSable, said Thursday they would agree to a compromise plan to call the iconic road "DuSable Lake Shore Drive" — if the change is approved on Friday.
However, without Mayor Lori Lightfoot's approval, the effort remains in motion 24 hours before the twice rescheduled showdown. A spokesperson for the mayor declined to immediately answer questions about the proposed new name, which may turn out to be a tongue twister.
Ephraim Martin, the head of Black Heroes Matter, told reporters in an online press conference on Thursday that the group would support renaming Lake Shore Drive "DuSable Lake Shore Drive" as long as a vote takes place on Friday. – and the parliamentary shenanigans that blocked a decision are coming to an end.
The iconic road's new name will "send a serious message to the world that Chicago is ready to end systemic racism," Martin said.
Martin said his group — which has lobbied city officials for months over the name change — has yet to see the proposed compromise in writing. Martin said many members were skeptical that the compromise could break the deadlock, noting that they had "waited too long" for a decisive vote by city council.
Martin said he was confident there were at least 26 votes for the original proposal to rename Lake Shore Drive from Hollywood Avenue at Edgewater to 67th Street at Woodlawn DuSable Drive.
"But we'll accept this compromise and we'll just get away with it," Martin said.
Without the mayor's backing, the compromise measure to rename Lake Shore Drive for DuSable likely won't have enough support to pass.
Aldus. Brian Hopkins (2nd Ward), who was one of two aldermen who blocked a vote on the name change in May, told WTTW News the revised proposal was a "clumsy attempt at compromise."
But Hopkins did not rule out backing it, saying he was checking whether the revised proposal would require buildings and museums to change addresses.
"It's likely they would still receive mail addressed to Lake Shore Drive, while the added 'DuSable' is being phased out," Hopkins said.
Another proposal would be to rename Millennium Park for DuSable.
Lightfoot said she didn't want the causeway renamed and said most Chicagoans agreed with her.
If a name change passes without the mayor's office, Lightfoot could veto it. It would take 34 votes from the city council to reverse this action. The last veto came in 2006 when former Mayor Richard M. Daley vetoed a measure that would have required big-box stores like Walmart to pay employees at least $10 an hour by 2010. The city's minimum wage will increase to $15 an hour on July 1.
Mayor Lori Lightfoot chairs a city council meeting that ended abruptly on Wednesday, June 23, 2021. (WTTW News)

Lightfoot said a better way to honor DuSable and his wife, Kitihawa, a member of the Potawatomi tribe, would be to complete the long-delayed DuSable Park along the lake and connect it to a Riverwalk renamed in DuSable's honor. . Three statues would mark the path, Lightfoot said.
Lightfoot said it would cost $40 million, including $10 million from Related Midwest for the long-delayed completion of DuSable Park on a 3.3-acre peninsula adjacent to two planned towers. Former Mayor Harold Washington proposed creating the park in DuSable's honor.
A vote on the proposed renaming of Lake Shore Drive stalled for the second time on Wednesday, frustrating city council members.
LILY: Lake Shore Drive clash delayed as acrimony between council and mayor reaches fever pitch
Twenty-two aldermen – including Alds. David Moore (17th Ward) and Sophia King (4th Ward), the two sponsors of the campaign to rename Lake Shore Drive – sent a letter to Lightfoot on Thursday calling on him to follow council rules of procedure and "ensure a fair and transparent legislative movement process.
"Any deviation from them is not only unacceptable and illegal, but also a manipulation of our democratic process," the aldermen wrote.
That letter — signed by 44% of the Chicago City Council — is another indication of the acrimonious and soured relationship between Lightfoot and many aldermen.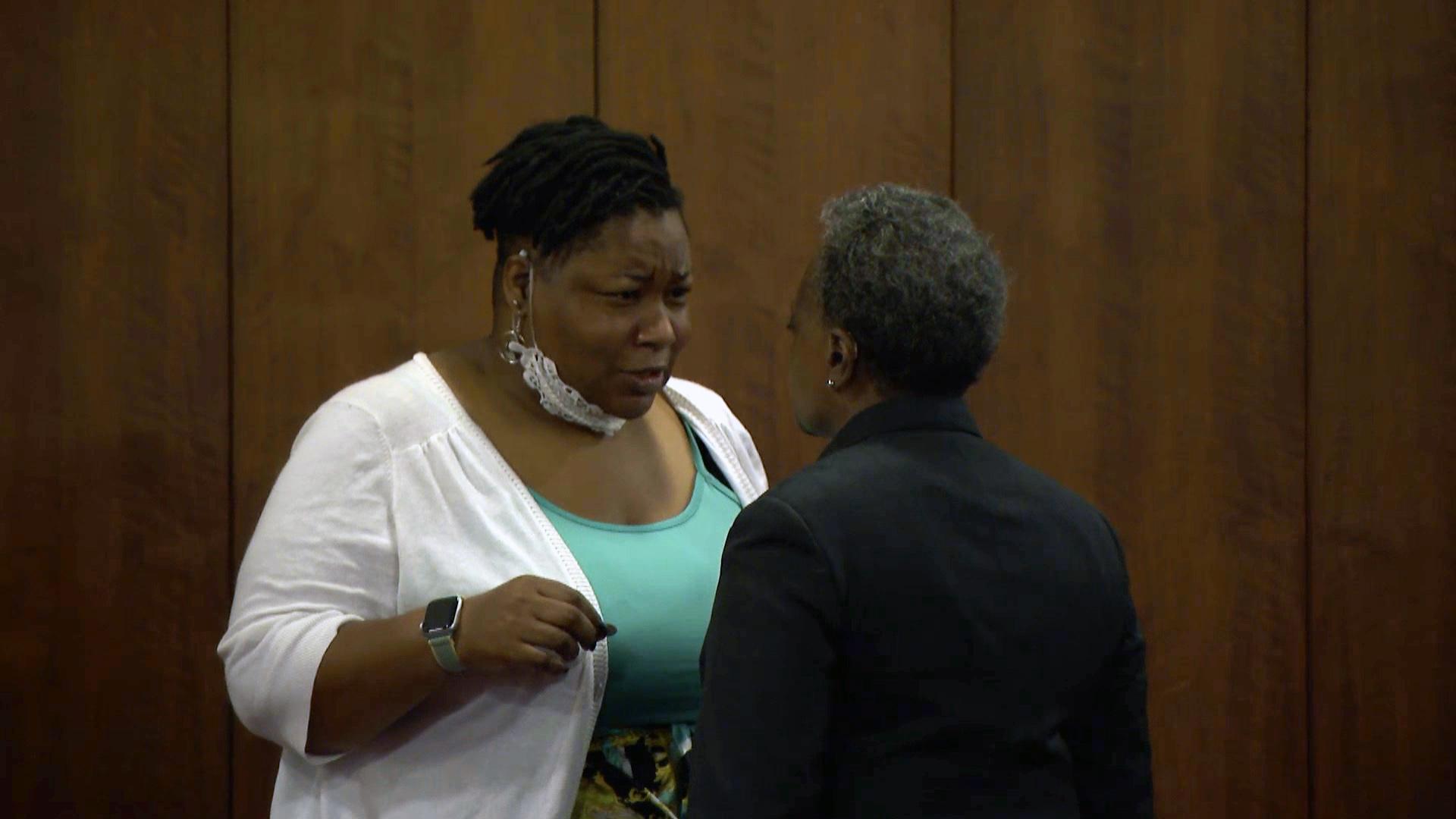 Aldus. Jeanette Taylor (20th Ward), left, speaks with Mayor Lori Lightfoot during a city council meeting Wednesday, June 23, 2021. (WTTW News)

That tension boiled over at Wednesday's City Council meeting, when a decision to block Celia Meza's confirmation prompted Lightfoot to leave the stand and confront Ald. Jeanette Taylor (20th Ward). The two argued for several minutes as a stunned city council looked on.
Taylor said she blocked Meza's confirmation because of the city's handling of the lawsuit filed by Anjanette Young, a social worker whose home was mistakenly raided in February 2019. Forty-three times, Young said to the seven male police officers who had handcuffed her while she was naked that they were in the wrong house and begged them to let her get dressed.
The city has so far refused to settle that lawsuit and compensate Young.
Contact Heather Cherone: @HeatherCherone | (773) 569-1863 | [email protected]
---